FASHION JEWELRIES
Necklaces & Chokers
Bracelets & Bangles
Pendants
Earrings
Anklets
Brooches
Set Jewelry

FASHION ACCESSORIES
Belts
Bags
Coin Purses
Hats
Sarong Ties & Buckles

JEWELRY COMPONENT STRANDS
Shell Beads
Coco Beads
Bone & Horn Beads
Wood Beads
Seeds Beads
Puka Shells Beads
Coco Beads Splashing

REFERENCE
Wood Chart
Lock Options
Shell Scientific Names
Component Strands Gallery

View our pages in your own language!

Search Site




Existing clients log-in page. We upload fresh new designs every month for our valued clients.

Today is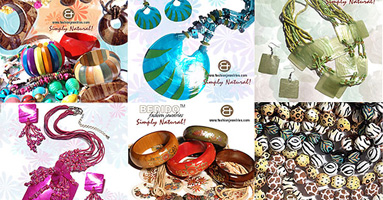 Welcome to Bedido Fashion Jewelries Inc.! We are a leading manufacturer and exporter of local handicraft, shellcraft, decors, fashion jewelry / jewelries and gift items, components and fashion accessories, based in Cebu City, Philippines. We are proud of our beautiful fashion jewelries made from a variety of indigenous materials which are mostly found in the Philippines- Shells,Coco, Bone, Horn, Wood, Mother of Pearl Jewelry (MOP ) etc... Jewelry components available in different cuts - Troca, Heishe, Natural, Special Cuts,Nuggets, Square Cut etc.. It's all about capturing nature's wondrous beauty, enhancing it and making lovely fashion jewelries that showcases Mother Nature's treasure chest! These jewelries come in a variety of colors you may choose from. Feel free to browse our site. You may also download our catalogue upon request We bring to you beautiful jewelry designs that's both contemporary and classic. Bedido Fashion Jewelries offers a wide variety of original jewelry and customized jewelries at a very competitive rates, specially for wholesalers. Visit our FAQ page for answers to your questions or you may send us an email .

Shell Jewelry - From Shell Necklaces, Shell Bracelets, Shell Beads, Shell Dangling Earrings, Shell Pendants, Shell Bangles, Shell Components made of MOP Mother of Pearl Shell Hammer Shell Black Lip Shell Brown Lip Shell Black Tab Puka Shell Cowry Shell Cowrie Shell Bonium Mongo Capiz Shell Paua Abalone Shell. Great for Ladies Mens Boys Girls Ladies Wear.
Wooden Jewelry - From Wooden Necklace, Wood Bracelets, Wood Beads, Wood Dangling Earrings, Wood Pendants, Wooden Components, Wooden Bangles. Made of Bayong, Robles, Camagong, Black, White Wood, Natural, Bleached, Ebony, Kamagong, Nangka, Round Beads, Oval, Flat,Chunky, Chunks, Nuggets and whole lot of unique shape and design wood jewelry.
Coco Jewelry - From Coconut Tree, great coconut jewelry. Coco Heishe Strands Coco Pokalet Beads Coco Husks. Coco Necklaces, Coco Bracelets, Coco Bangles, Coco Beads Anklets, Rasta, Reggae Fashion, Coco Fashion Earrings, Coco Pendants, Coco Components, Coco Strands. Great for Summer and Spring Fashion Jewelry Accessories. Ideal for Unisex Mens Ladies Womens Teens
Resin Jewelry - Unique Designs of Resin Necklaces, Resin Pendants, Resin Bangles, Resin Earrings.
Bone Horn Jewelry - Tribal Ethnic Native Designs Jewelry. From Bone Horn Necklaces, Bone Horn Beads, Bone Horn Anklets, Bone Horn Earrings, Bone Horn Pendant. For the Animal Instinct in you!

If you have any questions about our products and services, we offer 24 hour live assistance.


Did you know that Caviar, also known as Food of the Gods is best indulge straight from a mother-of-pearl spoon since metal will give the eggs a tinny taste.